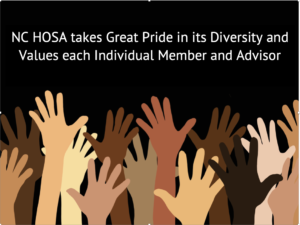 We are saddened by recent events and would like to acknowledge the emotions of many across the nation, including many HOSA members, may be feeling. As part of our mission and goals, we are dedicated to creating leaders in the global health community who are understanding of health care issues and the needs of the community. To achieve this, we must acknowledge the systematic racism that has existed in our country.
We recognize it is our responsibility to educate future health professionals by including conversations about healthcare disparities and sociological issues. We cannot shy away from the conversation of racial disparities and how they are affecting the health community and the community as a whole. HOSA is more than an organization; it is a support system for members of diverse backgrounds and a place they look to for guidance and direction.
-2019-2020 HOSA International Executive Council
HOSA's Core Values
We value learning. We are committed to learning and becoming respected, knowledgeable and skilled health professionals.  We will respect the experiences and contributions of our teachers, peers and patients and seek to learn from them.
We value leadership. We will serve as role models in our academic program, profession and community. We will be ethical, accountable and trustworthy.  We will use our influence to empower others to strive for excellence.
We value service. We are dedicated to serving others with compassion. We believe that individuals are important, and we will treat everyone with respect and care.
We value innovation. We are dedicated to enriching the lives of others. We will continuously seek the knowledge and skills to address challenges and improve the health professions.
North Carolina HOSA
NC HOSA is a prestigious state association of the international HOSA organization, by and for students who are or were enrolled in secondary or postsecondary / collegiate health science education programs and/or are interested, planning to pursue, or pursuing a career in the health professions.