Nicholas Ballard
President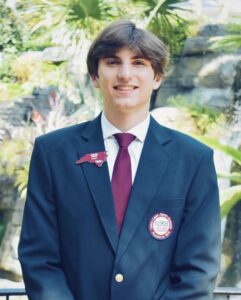 nicholas.ballard@nchosa.org
"Wherever the art of Medicine is loved, there is also a love of Humanity." - Hippocrates
Nicholas Ballard is the 2022-2023 President of North Carolina HOSA-Future Health Professionals and Ignatian Scholar at Loyola University Chicago, pursuing a B.S. in Healthcare Administration. Nicholas previously served as the President-Elect on last year's Team 46, bringing his prior knowledge and experience to this year's Team 47. He believes that healthcare should be human-centered, and hopes to promote access to care for everyone. He first joined North Carolina HOSA in the Fall of his freshman year, exploring various avenues of the health sciences as he competed in events such as Dental Terminology, Medical Law and Ethics, Bioengineering, Allied Health Statistics, and more. Nicholas found direction and confidence in his future career aspirations because of HOSA, and now aspires to push NC HOSA's members 'beyond all limits' as they, too, discover their niche interests in healthcare. Recognizing that the healthcare industry will be forever changed due to the COVID-19 pandemic, Nicholas also strives to revitalize the state association, NC HOSA, because it stands for the future of humanity's individual and shared wellbeing. In his free time, Nicholas enjoys playing soccer and performing jazz piano with his friends. Nicholas is honored to serve North Carolina HOSA this year as he strives to empower students at all membership levels.
Samantha Kamineni
President-Elect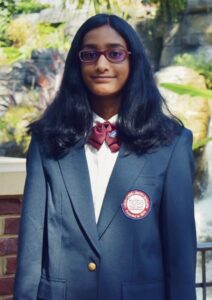 samantha.kamineni@nchosa.org
"The task of leadership is not to put greatness into people, but elicit it, for the greatness, is there already" -John Buchan
Samantha Kamineni is serving as the President-elect for the 2022-2023 year and is a junior at Enloe High School, aspiring to be a clinical researcher. Thus far, HOSA has been an integral part of her high school journey and she recognizes how the organization's impact will persist beyond. What started off as an outlet to explore her interests in the medical field through competitive events, like Creative Problem Solving, has unfolded to be a supportive community of future-health professionals.  She is grateful for the new perspectives she has gained, and is inspired by the creativity and courage that all NC HOSA members pose. As she grows as a leader, she hopes to empower members to hone their individuality and compassion. She is beyond honored to serve as your president-elect and looks forward to interacting with members of NC HOSA, and witnessing how we will go beyond all limits!
Erin Greene
POSTSECONDARY/COLLEGIATE VICE PRESIDENT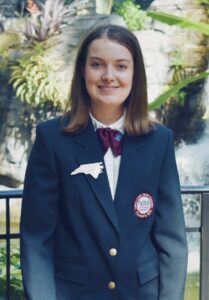 erin.greene@nchosa.org
"The goal of many leaders is to get people to think more highly of the leader. The goal of a great leader is to help people to think more highly of themselves". -Carla J. Northcutt
Erin Greene is serving as your 2022-2023 Postsecondary Collegiate Vice President. She is currently a sophomore at North Carolina State University majoring in animal science with a minor in psychology. She aspires to become a veterinarian and work in canine olfaction research. When Erin looks back at the version of herself that joined HOSA five years ago, she is able to clearly recognize the impact that this organization has made on her life and how it has molded her into the leader she is today. HOSA has shown her the significance of perseverance through competitive events, boldness through networking and responsibility through professionalism. However, the most remarkable thing Erin has learned is the importance of servant leadership and how it can impact the lives of others. She is extremely excited to be serving on Team 47 this year and cannot wait to get to know the members of North Carolina HOSA!
Nayeon Kim
VICE PRESIDENT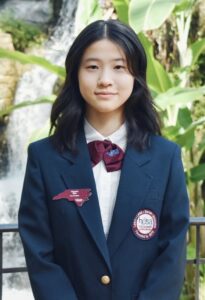 nayeon.kim@nchosa.org
"Lead from the back — and let others believe they are in front." - Nelson Mandela
Nayeon Kim (who goes by her middle name, Leah) is serving as your 2022-2023 Vice President. She is currently a senior at Marvin Ridge High School and is interested in pursuing a career in psychiatry while possibly conducting research on psychopathy in the future. Her freshman year in high school marks the start of her journey in HOSA, where she was just content to be surrounded in a friendly environment with other passionate individuals. Throughout her journey, she has gradually immersed herself in the organization's impact by competing in Clinical Specialty and Behavioral Health while consistently involving herself with her own chapter. Today, she has further nurtured her own potential to not only understand the impact of this organization but serve to bring the same unique experience to all members as a fellow student and future health professional. To make your voice heard on a state-level, Nayeon is more than ecstatic to collaborate with both the members and Team 47 to help each individual turn their dreams into realities within NC HOSA!
Lexi Denning
SECRETARY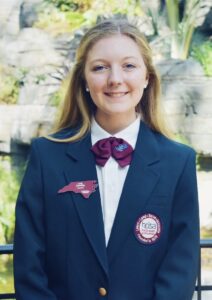 lexi.denning@nchosa.org
"If your actions inspire others to dream more, learn more, do more and become more, you are a leader." - John Quincy Adams
Lexi Denning is serving as your 2022-2023 Secretary and is currently a senior at Topsail High School. Lexi is looking forward to embracing her new state leadership position and serving other HOSA members. Lexi became interested in HOSA as a middle school student dedicated to raising awareness for childhood cancer and is now in her sixth year as a HOSA member. Throughout her HOSA journey she has competed in Medical Terminology and Biomedical Laboratory Science at the regional, state, and international level and discovered a passion for becoming a pediatric oncologist. Outside of HOSA Lexi is involved in the Plastic Ocean Project, Letters for Rose, Science Olympiad, and Reelin' for Research. Lexi is very excited to serve North Carolina HOSA on Team 47 and have the opportunity to be a part of others' HOSA journey!