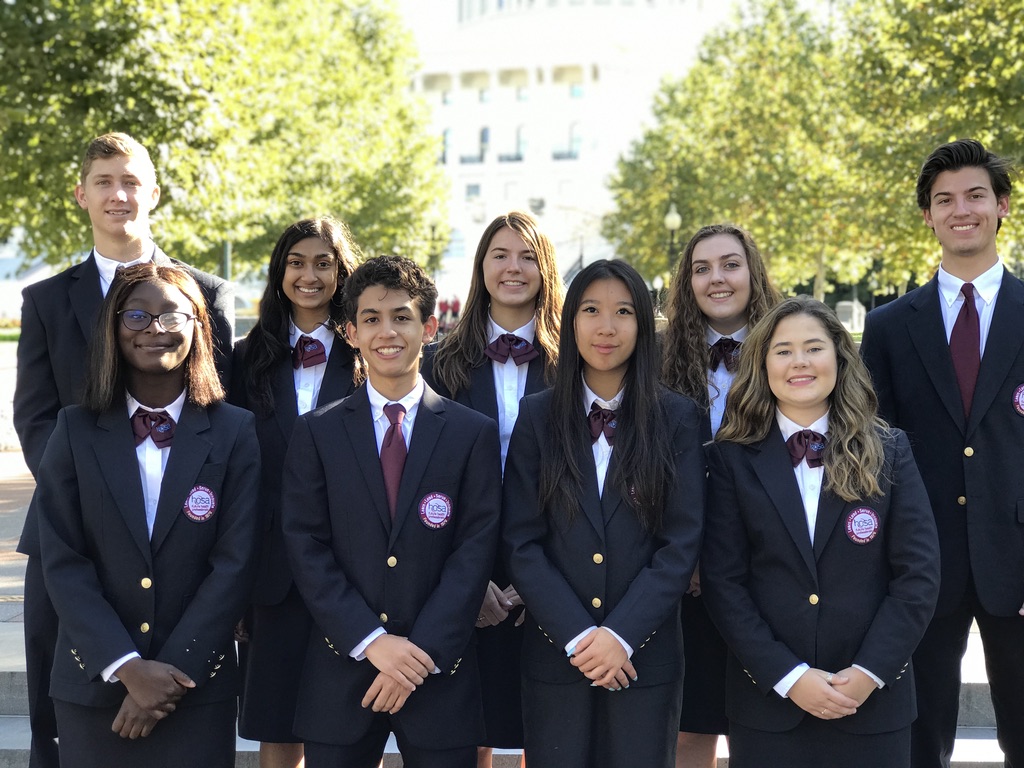 Anna Feng
President and North Central Region Representative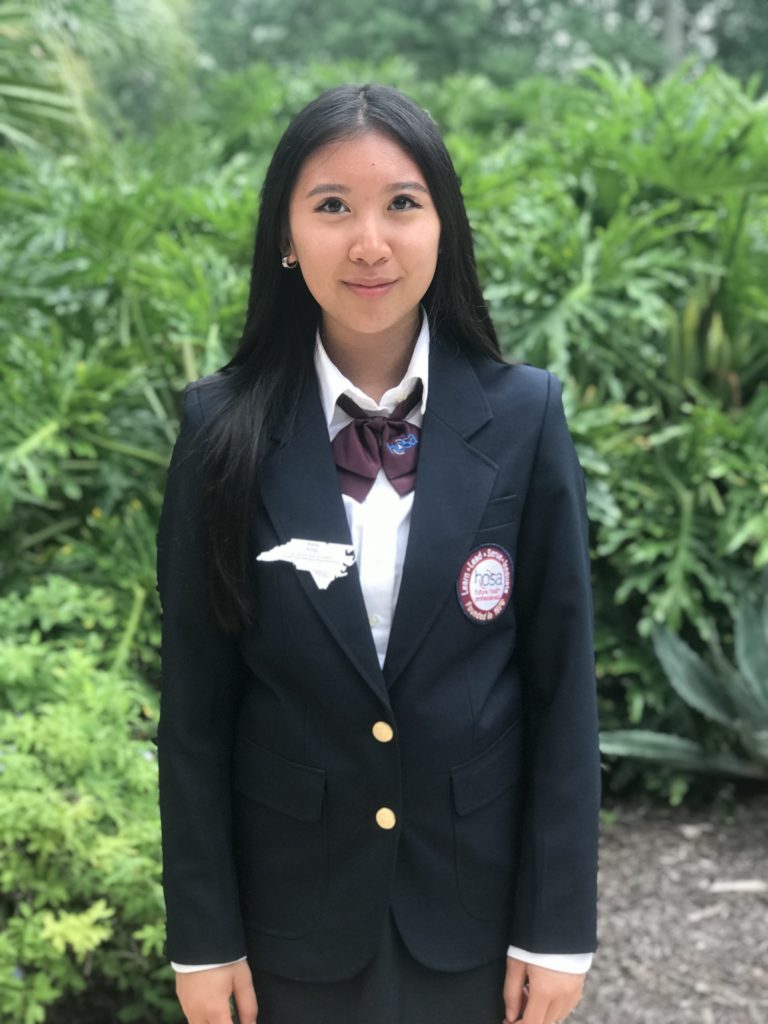 From Apex, NC, Anna Feng is honored to serve North Carolina HOSA as this year's North Carolina HOSA President and North Central Region Representative. Anna was given her first glimpse into the world of healthcare when her brother's sudden seizure led to a midnight visit to the ER. Watching the doctors tend to her brother, she decided that one day, she would help someone else's family like others had helped hers. Since then, her passion for service has only grown, strengthening through her involvement in HOSA-Future Health Professionals as well as her community. From assisting local blood drives to fundraising for the National Pediatric Cancer Foundation, volunteering has allowed her to witness the impact that can be made by dedicated individuals. A 3rd-year HOSA member, Anna has also competed in Medical Reading and Behavioral Health, placing Top 3 in both events at the international level. This year, she hopes to spread her passion for service, engaging more members with the unique opportunities HOSA offers. As your 2019-2020 NC HOSA President, Anna looks forward to leading today's NC HOSA members on their journey to becoming tomorrow's future health professionals.
Sarah Whittington
Vice President and Northwest Region Representative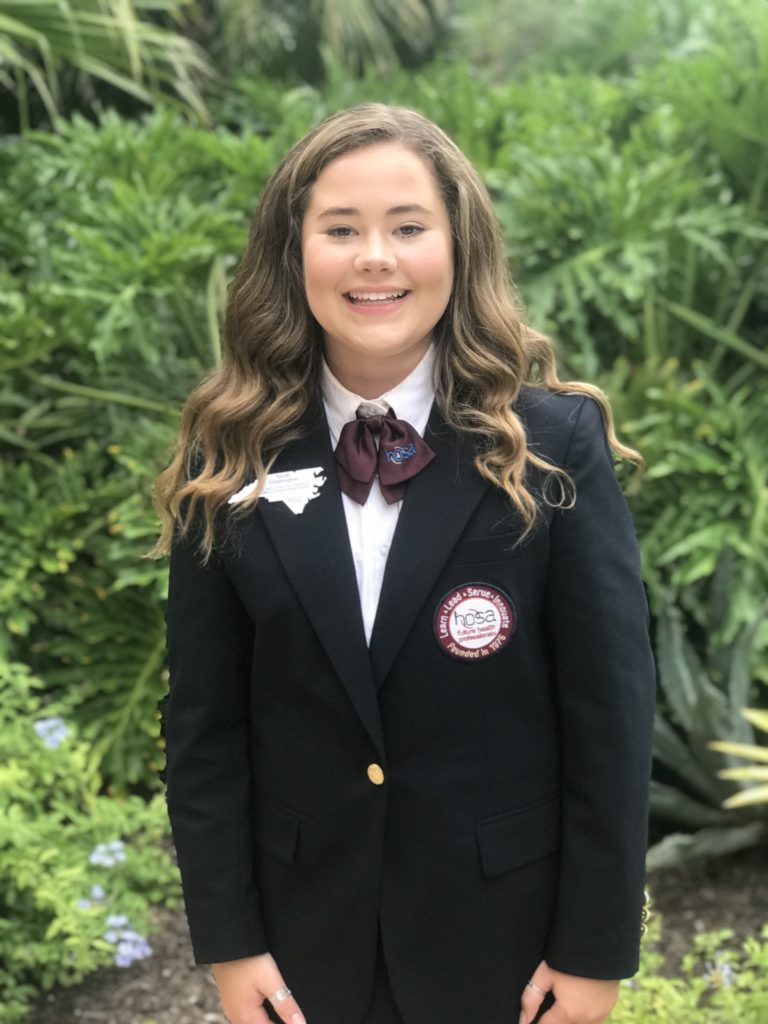 "The best way to find yourself is to lose yourself in the service of others" -Mahatma Gandhi 
As a freshman, Sarah enrolled in a health science course and fell in love with the medical field. The only thing that was familiar to her when it came to HOSA was service. She had no health science background, but she knew she wanted to serve others. HOSA has provided her with that opportunity and so much more. Coming from West Wilkes High School, and representing the Northwest Region of North Carolina, Sarah became the 44th North Carolina HOSA Vice President at the 2019 State Leadership Conference in Charlotte, NC. Sarah aspires to become a Pharmaceutical Scientist, working to develop new medicines to treat auto-immune diseases. Through her countless volunteer hours serving in various leadership roles at her school, keeping score for three different sports teams, and building a greenhouse at a local elementary school for her senior project, Sarah has developed a strong passion for the service of others. She thanks HOSA for teaching her imperative leadership skills, growing her character, and giving her space to define her purpose. Sarah is extremely honored and excited to serve as your Vice President this year and hopes to help you discover yourself through the service of others in HOSA.
Cole Dickerson
Postsecondary/Collegiate President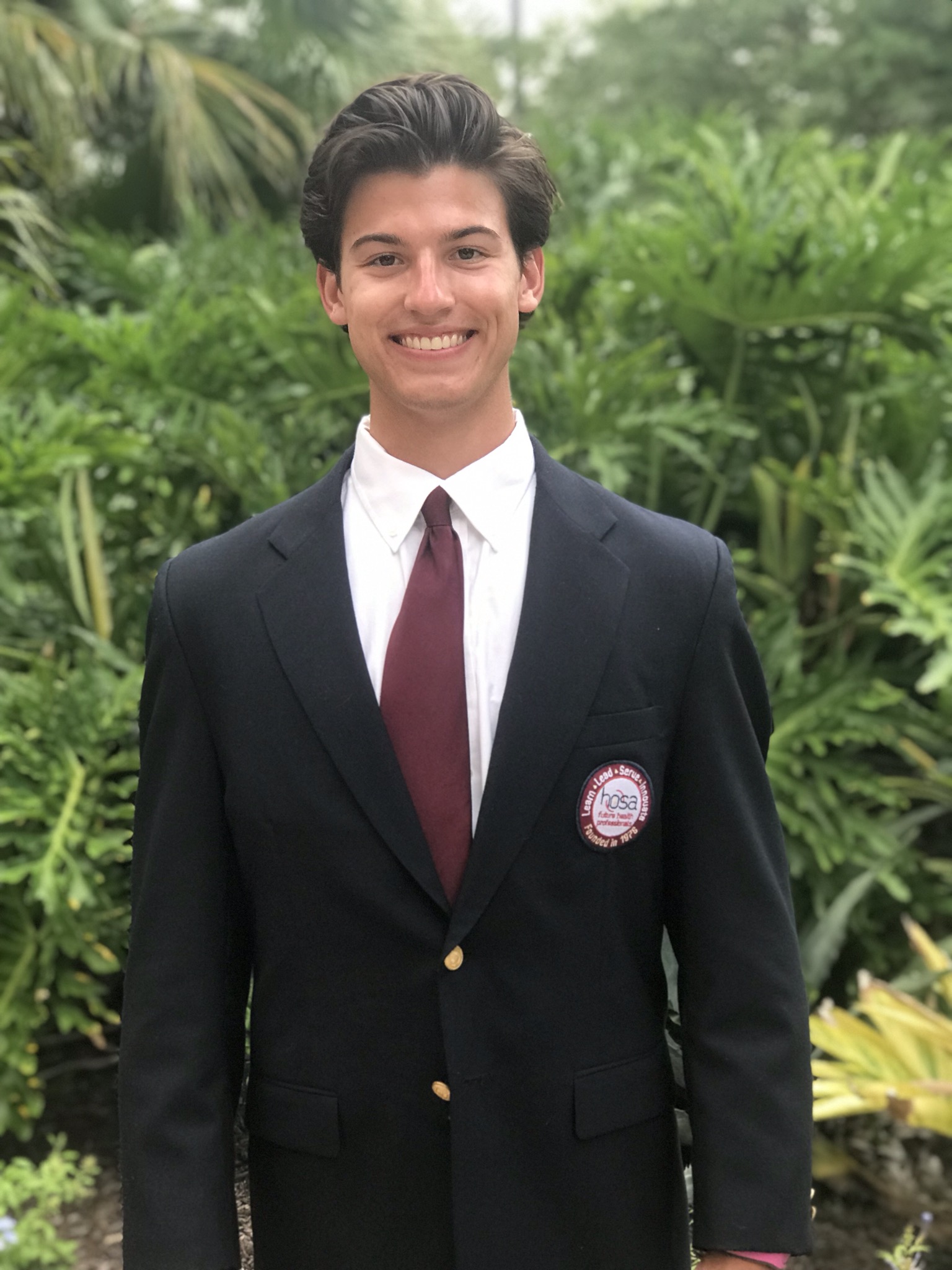 Starting his sophomore year of high school, Cole Dickerson from Gates County, North Carolina has been attracted to the community of compassionate students that HOSA-Future Health Professionals offers. His passion for keeping people happy and healthy has driven him to serve as a two-time North Carolina State HOSA officer. Cole is elated to be continuing a career of service with HOSA-Future Health Professionals as your Postsecondary/Collegiate President. This upcoming year will be Cole's freshman year attending East Carolina University in Greenville studying Public Health and completing an MBA with an end goal of one day becoming a surgeon. The various opportunities that HOSA-Future Health Professionals has offered him at the Secondary level have made him passionate about increasing Postsecondary/Collegiate membership and finding innovative, new ways to solve problems in the greater health community. In his free time, Cole enjoys fishing, working out, playing volleyball, and spending time with his friends, dogs, and family. Cole is ecstatic to be given the opportunity to work on behalf of Postsecondary/Collegiate students across the state!
Kassidy Coggins
Western Region Representative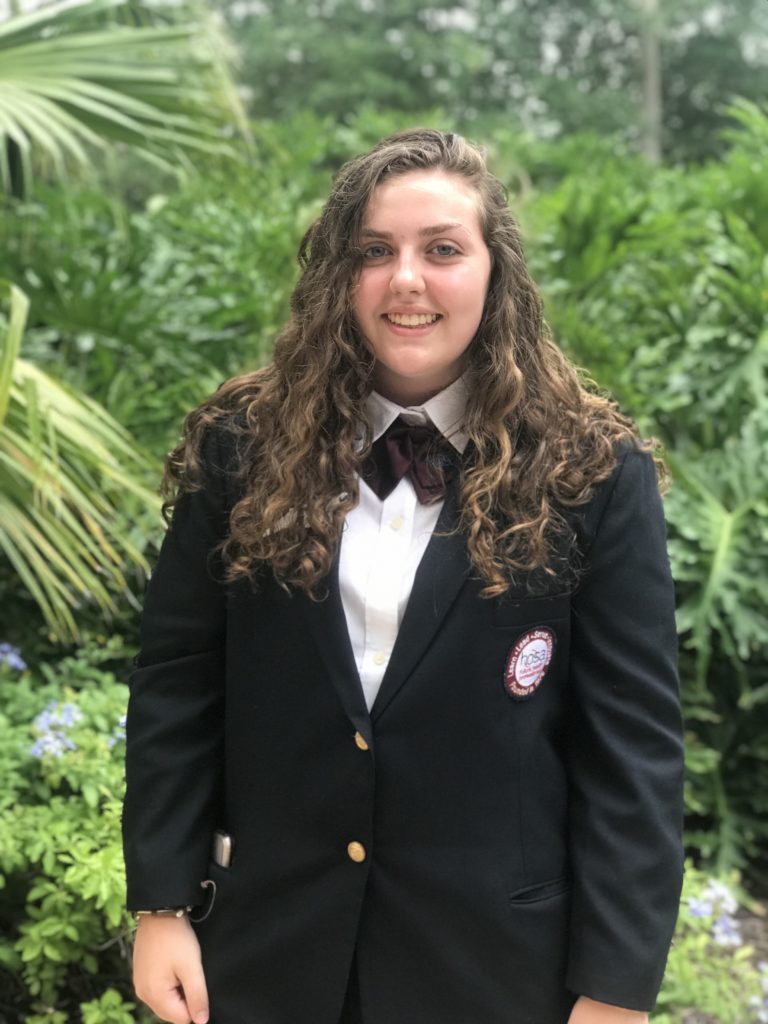 Kassidy Coggins is a junior at Smoky Mountain High School. Kassidy joined HOSA her freshman year after being introduced to her advisors Mrs. Caldwell and Mrs. Day. Kassidy spends most of her time with her friends and family. Looking forward to the year ahead, Kassidy is excited to share her love for the health field with others. She strives to improve her leadership skills and introduce the organization to others.
Harshita Gudipudi
Southwestern Region Representative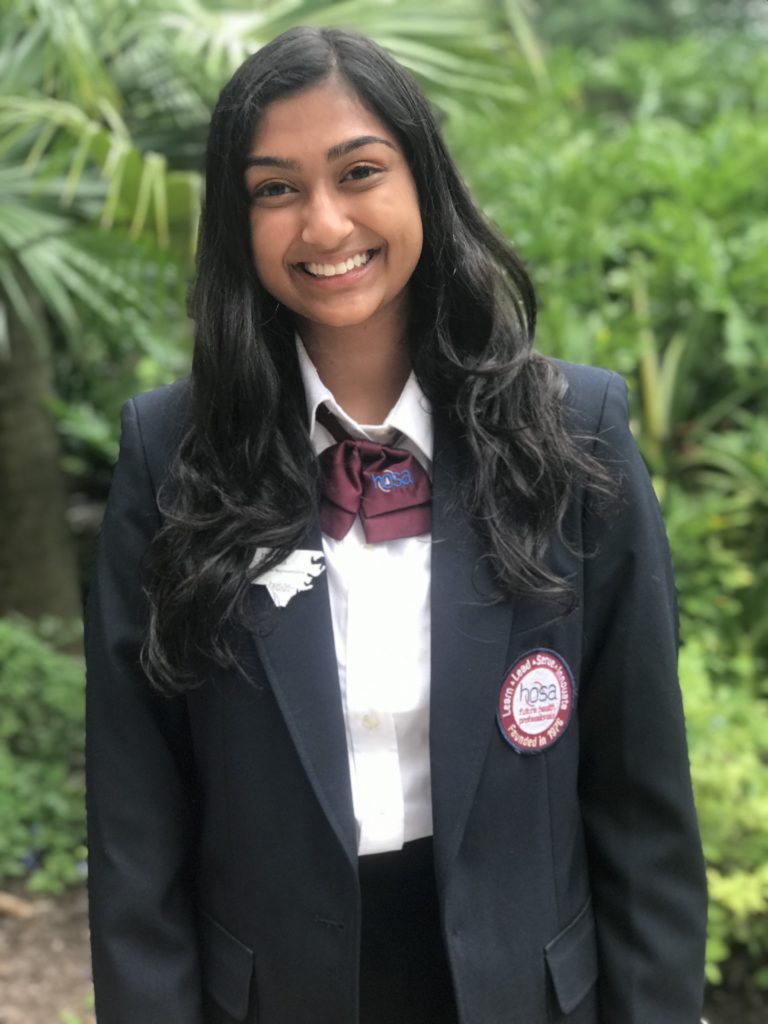 Harshita Gudipudi is extremely excited to serve as your Southwest Region Representative this upcoming HOSA year! She is a senior at Cox Mill High School and has been an active member of this organization since 2016. Her passion for healthcare was first sparked by the numerous hospital trips caused by the presence of diabetes within her family. All around her, she constantly saw doctors saving individuals' lives, which sparked her desire to be one. Participating in HOSA - Future Health Professionals has provided her with the opportunity to learn more about the medical field and meet individuals with similar interests as her own. Therefore, this organization has helped further her adoration for healthcare. By being her own chapter's officer for three years, serving as President this year, Harshita has been able to grow her excitement for helping those around her. Outside of HOSA, she enjoys kickboxing, singing, running, and playing guitar. She looks forward to this next year as she serves on the 2019-2020 executive board and inspires HOSA members all over North Carolina!
Ashton Rierson
Piedmont-Triad Region Representative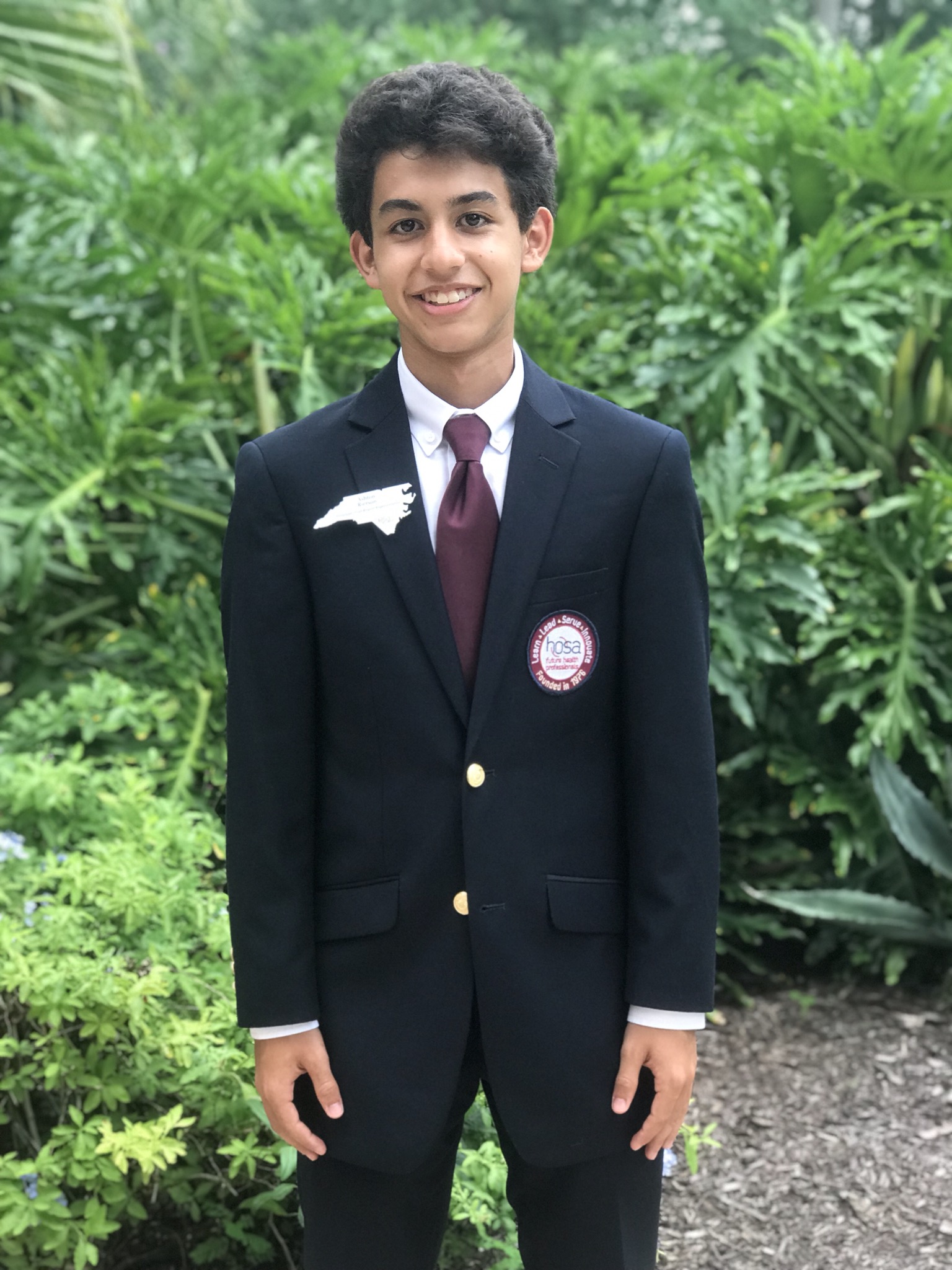 Ashton Rierson is a senior at Mount Airy High School representing the Piedmont-Triad Region. After hearing about the excitement and many opportunities surrounding HOSA - Future Health Professionals, he decided to transfer schools for his junior year in order to join. At open house, he was encouraged to pursue state office to create his future, representing the dedicated HOSA - Future Health Professionals members of the Piedmont-Triad Region. Outside of HOSA, Ashton enjoys volunteering at his local hospital as an anesthesia tech and volunteering at his local free clinic, translating for Surry County's Hispanic community. Ashton has found his passion in anesthesiology with the end goal of becoming an anesthesiologist. He hopes to make your HOSA experience the best it can possibly be.
Ehi Audu
Sandhills Region Representative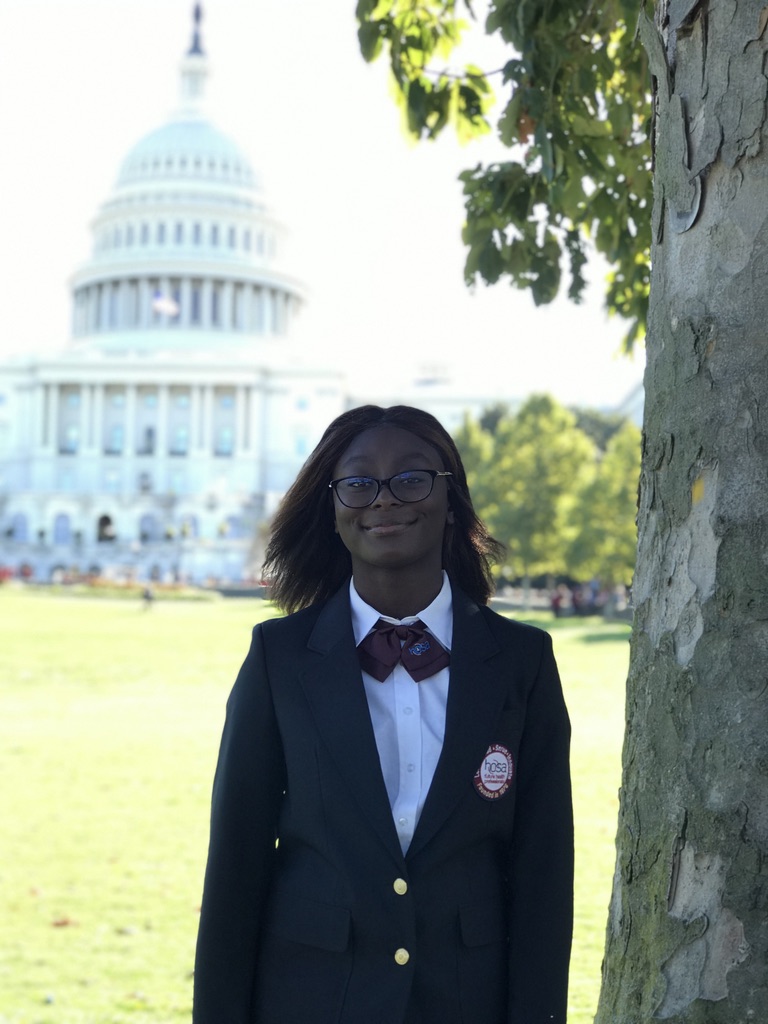 Ehi Audu is from Fayetteville, NC, and thrilled to join this year's North Carolina HOSA team as the Sandhills Region Representative. From a young age, Ehi took a liking to the aspects of a career in healthcare with the help of her rampant baby sister and her obsession with mutilating her dolls. Using toilet paper as dressings and zebra patterned duck tape, Ehi awkwardly stitched together her poor dolls' limbs while inadvertently growing her passion for the improvement of the well-being of others. However, it seemed like nothing in the medical field interested Ehi, that is, until she joined HOSA three years ago, was introduced to anesthesiology through competitive events, and taught the importance and benefits of professional leadership. Ehi has competed in events such as Health Career Display, Medical Innovations, and CPR/First Aid. This year, Ehi hopes to provide a gateway for health science students to evaluate the different jobs in the medical field that would help them to achieve career fulfillment. Ehi is ecstatic to lead North Carolina's future health professionals!
Bronson Hall
Southeast Region Representative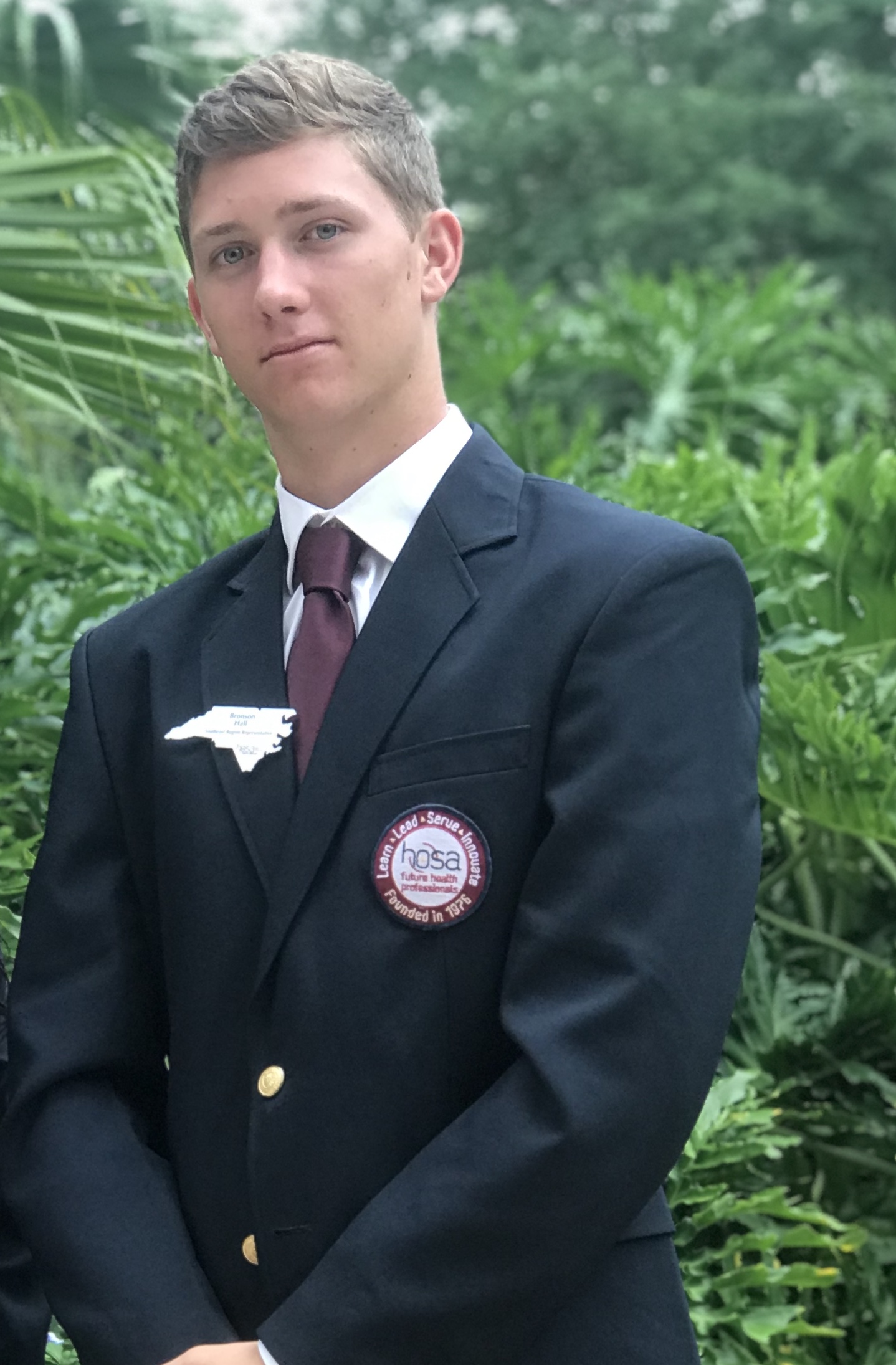 My name is Bronson Hall and I proudly serve as NCHOSA's southeastern regional representative! I have been in HOSA for almost two years after finding out about it from my teacher and friends at Swansboro high school. I knew right away that I'd love it because of my passion for the medical field. I joined and immediately began being as involved as I could, helping blood drives, planning meetings, and preparing for competitions. I took place in the Sports Medicine event in Charlotte, which was one of the most fun competitions I've ever competed in! As I get more and more involved in HOSA my passion for helping others and advancing in the medical field grows as well. I look forward to keeping serving the HOSA members and chapters of southeastern North Carolina and becoming one step closer to being a healthcare professional.
Ashby Dickerson
Northeast Region Representative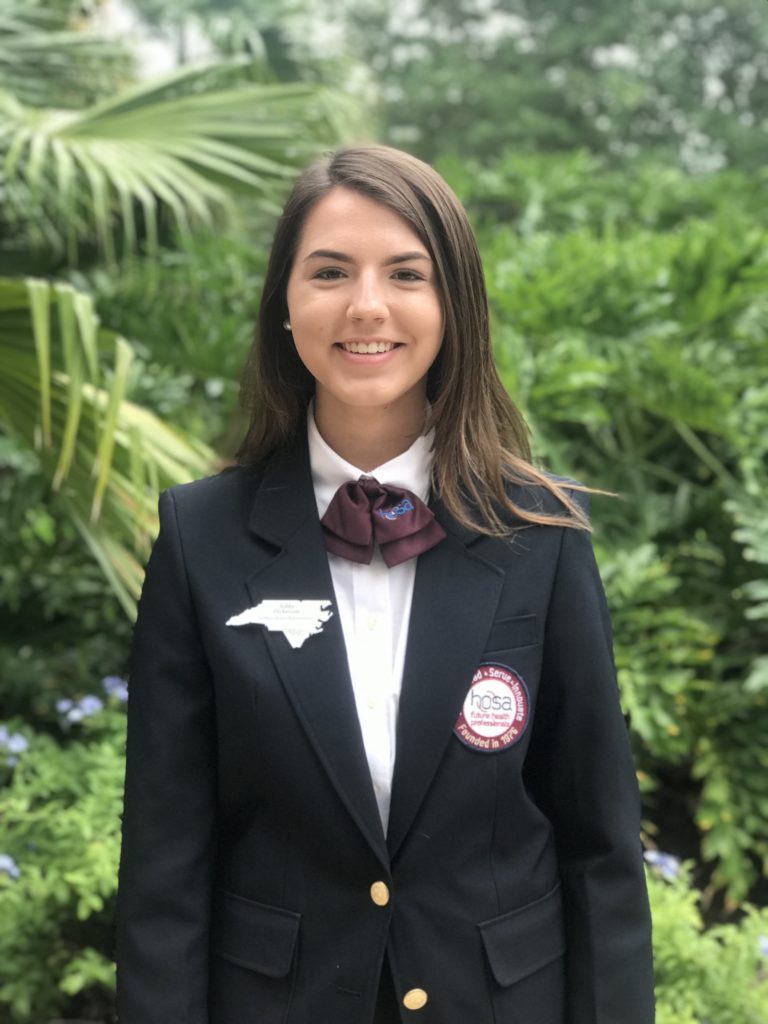 My name is Ashby Dickerson.
I'm a junior at Gates County High School. 
My favorite subject in school is Math.
My career goal is to become an occupational therapist. 
The competitive event I participated in this year was Biomedical Debate. 
My hobbies include: playing piano, ukulele, and guitar. 
I joined HOSA because my brother, Cole Dickerson, was voted in as a state officer in 2017. Throughout the year, I saw the impact he made in our community and schools. I was inspired by his contagious passion for healthcare and decided to join HOSA so I could have that same impact in our community and schools and continue to work with and improve NC HOSA.
A fun fact about me is that I have a little sister adopted from Russia.