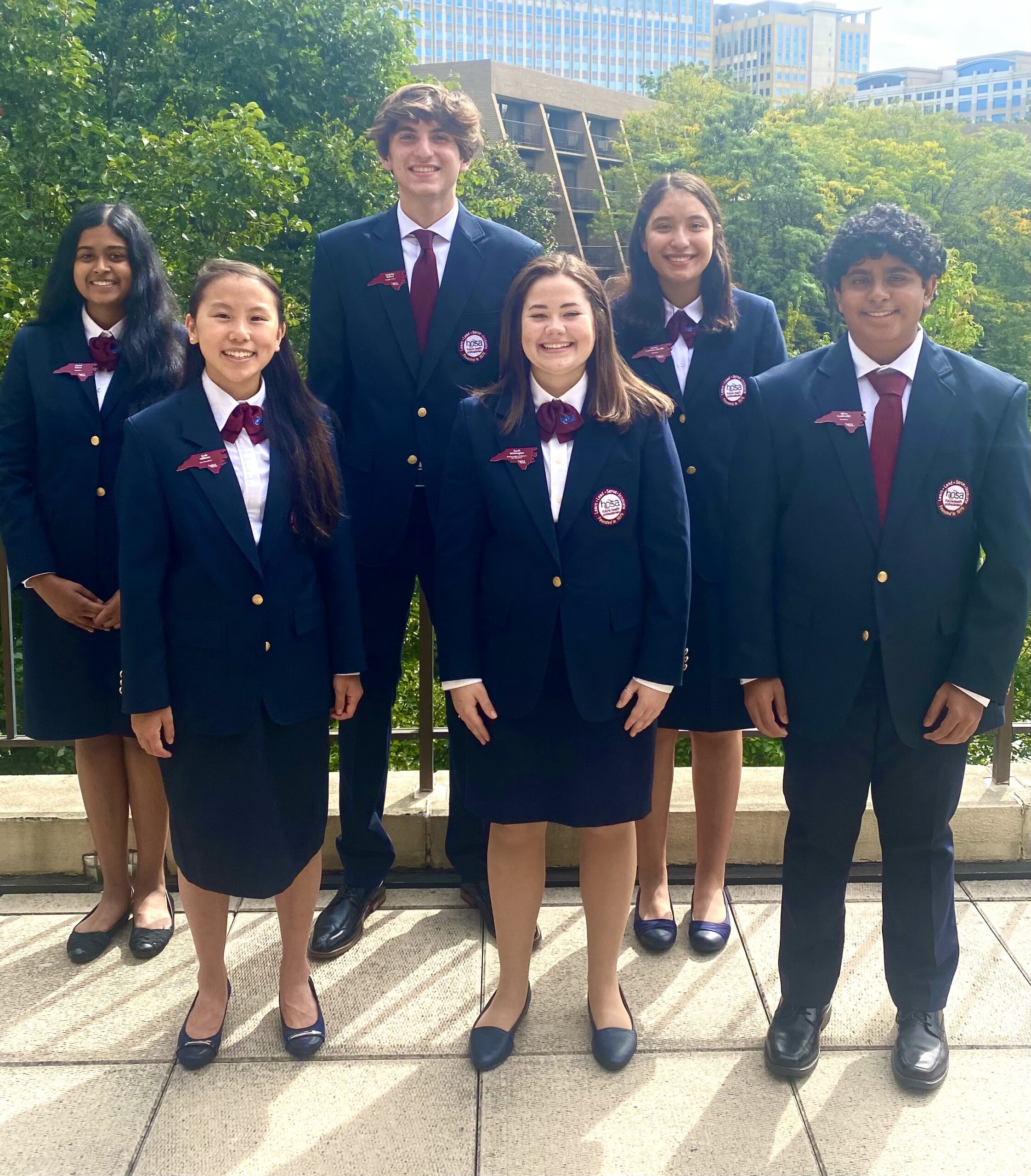 Shiva Gadireddy
President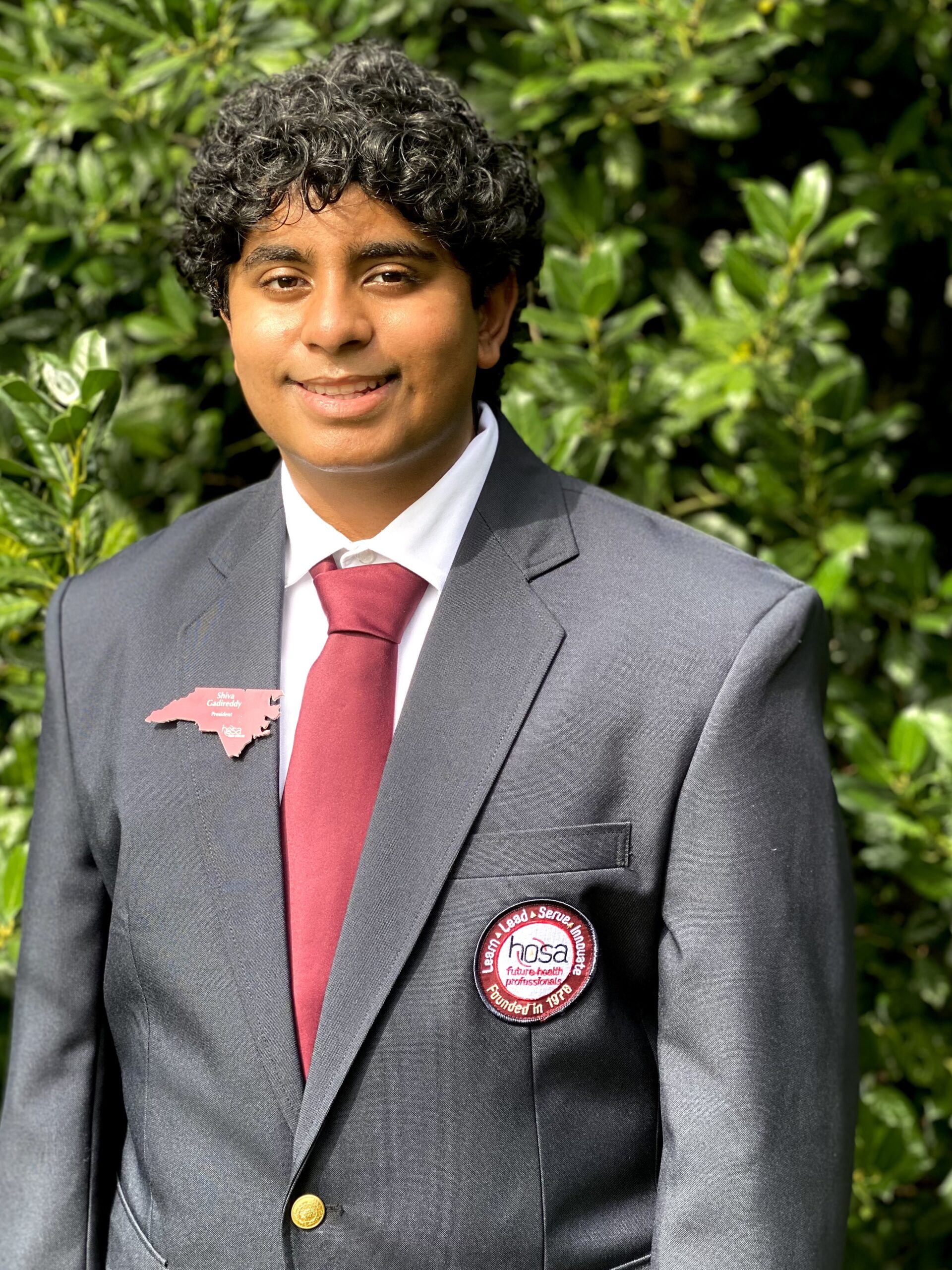 "Don't be afraid of failure. This is the way to succeed." - Lebron James
A senior at Cox Mill High School, Shiva Gadireddy has been an active member of HOSA since his freshman year of high school and has previously served on the local, regional, and state level of NC HOSA. Pursuing an education in STEM, he hopes to utilize computer science to positively benefit the field of medicine. Regularly participating in HOSA's Medical Math event, Shiva was able to combine his passion for medicine and mathematics in a competition that weaves both fields together. When he's not competing, he is an active member of his community, leading 3D printing workshops at Discovery Place Science, assisting the Radiology Department at the local hospital, and organizing food and donation drives for temples in the area in order to pour in more resources for those around him. In his free time, Shiva enjoys playing basketball with his friends, watching Korean dramas, and spending time with his family!
Having served as the NC HOSA Vice President for Team 45, Shiva knows what it takes to be a state officer and a team player, and is ready to get to work with the state officer team in order to improve the HOSA experience for our members. Focusing on increasing member opportunities in both competition and service, his main goal for the year is to give NC HOSA and its members a larger voice in the organization and to inspire the future health professionals of tomorrow. Shiva is thrilled to serve as the North Carolina HOSA President for the 2021-2022 year!
Nicholas Ballard
President-Elect
"Life's most urgent question is, 'What are you doing for others?'" -Martin Luther King Jr.
A senior at Enloe High School in Raleigh, NC, Nicholas Ballard has been a HOSA member since 2018. His dreams of pursuing neuroscience and bioengineering have formulated from HOSA's driven and compassionate collectivity—pushing everyone to discover their passions. Competing in HOSA's health informatics and healthcare issues events has allowed him to explore the crossroads of medicine and technology—moreover, their role in developing a better future for healthcare. Nicholas values HOSA's dedication to service, reflected by his direction of pediatric cancer fundraising and American Red Cross volunteerism. In merging these two valued facets of health science, Nicholas challenges North Carolina HOSA's members to reflect on the societal change they wish to bring through healthcare and to find their path in achieving it. He aspires to encourage everyone to aim for excellence in service and pursuit of invaluable healthcare knowledge as they further their scientific interests through HOSA's opportunities. Nicholas is excited to serve North Carolina HOSA as President-Elect and the North Central-Sandhills Super-region Representative this year!
Sarah Whittington
Postsecondary/Collegiate Vice President
"If you can't fly then run, if you can't run then walk, if you can't walk then crawl, but whatever you do you have to keep moving forward."
Martin Luther King Jr.
A sophomore at the University of North Carolina at Chapel Hill, Sarah is studying Biology on a pre-medicine track with minors in Chemistry and Health and Society. She also served on Team 44 as the NC HOSA Vice President and Membership Initiative Chair. Sarah is honored to serve again as a state officer and hopes to help provide students with the support they need to unlock their potential during this upcoming year. This summer, she hopes to receive her Phlebotomy license and work for the American Red Cross Blood Services. Sarah is passionate about working to discover cures for autoimmune diseases and working to help improve population health as a whole by focusing on the fundamental social forces shaping health in the United States today. In her free time, Sarah can be found volunteering in the Carolina Covid Student Services Corps where she has contributed over 32 hours conducting COVID-19 tests on students during the Spring 2021 semester. Sarah loves cooking, gardening, being outside, and cheering on the Tar Heels. She is also an employee at a local plant nursery and year-round Christmas shop! Sarah Looks forward to serving as the North Carolina HOSA Postsecondary/Collegiate Vice President for the 2021-2022 term.
Kady Hillman
Vice President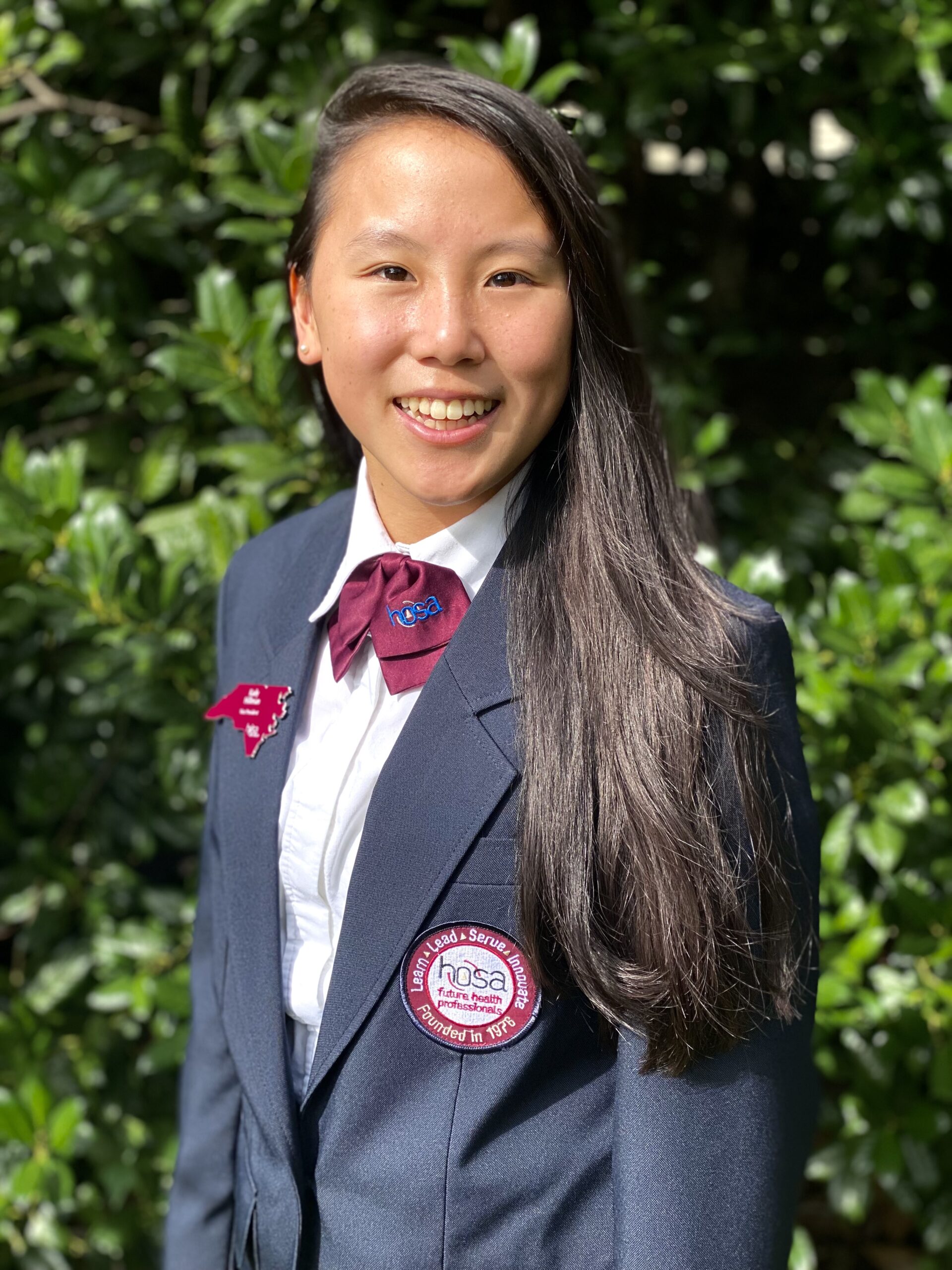 Kady is a senior at South Mecklenburg High School and has been a member of HOSA since freshman year. She has loved being in HOSA because of the opportunities it gives her to volunteer, learn, and create new friendships. "The real joy about HOSA is it has not only has taught me about medicine and leadership but it has helped me grow as a person throughout high school."
Kady understands how one kind person can truly make a difference and she now aspires to be an ER or hospice nurse. When she is not in school Kady enjoys singing opera, watching movies, running, and roller skating. This year she is more than excited to be serving with the HOSA team and hopes to inspire others in the medical field.
Jessica Contreras
Secretary
"The future belongs to those who believe in the beauty of their dreams" - Eleanor Roosevelt
 Jessica is a senior at Greene Central High School and has been in HOSA since her junior year. She has enjoyed her experience and is thankful for the many friendships that have came from being in HOSA. She is the first person from her high school to be elected to serve on the North Carolina State Officer team, and is serving as secretary in her local HOSA chapter. She participates in many school clubs, and runs track. During her free time she likes to read, run, and she enjoys gardening. Ever since she was a child Jessica has known that she wants to be someone who helps others. She aspires to become a dermatologist, and hopes to help plenty of people as well as to inspire others. Jessica is beyond excited to be serving on the HOSA state officer team and is excited to see what this year brings.
Quote: "Let us make our future now, and let us make our dreams tomorrow's reality." - Malala Yousafzai
A junior at Asheville High School, Harini has been a member of HOSA from her freshman year of highschool. She served as an officer on her school chapter's officer team as well as the Western Region Vice President her sophomore year of highschool. Her main event is Human Growth and Development, in which she has placed 2nd in at the state level both her freshman and sophomore years of highschool. Harini is passionate about serving in the healthcare field, and is thinking of pursuing a medical career in oncology or orthopaedics in the future. Harini is excited to work with NC HOSA to ensure that each member of HOSA has the opportunity to flourish in a challenging and fun environment. She is thrilled to serve as the North Carolina HOSA Northwest/Western Region Representative for the 2021-2022 year!